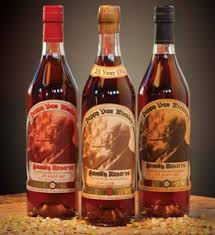 Details of this year's annual Whiskey draft!
It's every whiskey drinker's favorite time of year. When many of the best-known distilleries around the US release their flagships, not to mention some of the highest rated whiskies start hitting the shelves. The only issue is there is never enough of these releases to go around. Our solution is the Whiskey Draft raffle. (Again this raffle is for a chance to Purchase some of these rare bottles at MSRP)
With the success and the fun of past years drafts we have once again decided this to be the best and most fair way of rewarding our customers with a strong chance of scoring some of this rare whiskey (at MSRP)
Whiskey week (as we like to call it) will start on Black Friday (November 25th) and will run though (Friday)December 2nd.
Rules: For every bottle of 750ml whiskey purchased at Redstone Liquors (Andover or Stoneham) during Whiskey week you will receive one raffle ticket (all same raffle)…
For every bottle of 750s from one of our many Redstone Exclusive single barrel picks you will get 2 raffle tickets: (while supplies last)
BONUS: Any bottles purchased on Black Friday will get 2 tickets per 750ml and 3 tickets for a Redstone barrel pick.
Some of this years Redstone Exclusive barrels include:
Eagle Rare 10 Year
Blanton's
Buffalo Trace
4 roses OBSQ Recipe
4 roses OESQ Recipe
Cleveland Underground Cherry & Hickory woods
Russells Reserve
Lost distillery Highland scotch finished in Margaux french wine barrels (ETA Dec 29th but not confirmed)
Pappa's pillar rum finished in Angles envy barrels for 90 days (ETA Dec 29th but not confirmed)
NEW THIS YEAR: Join our new loyalty program at time of checkout. This will not only keep track of your future purchases but will reward you with things like access to flash sales, bonus tickets or private raffles and selective holds! All this for being a valued year round regular customer.(we are piloting this system and will be able to add more benefits in the future)
On December 5th we will draw from the stack of raffle tickets collected to create a Draft order. First overall pick gets their pick of which whiskey they wish to purchase from the pool. Second pick get to chose from the pool of whats left and so on…
The more tickets you have in, the better your chance to get a spot… But note you can only win once.
If we draw your name multiple times you will get moved up in the list. (the folks with the most tickets drawn will move up in the draft based on number of time we pull their ticket). For those that only get picked once your spot on the list depends on the order it was picked.
When called you must make your pick while on the phone with us so that we can contact the next in line with what is avail to them.
In an effort of keeping this moving. If messages are not returned in 2 Hours! we WILL move on to next person and you will get bumped to the back of the line. as due to the number of winners, last years list took way to long to contact everyone. If no call back in the same day we will take name off list and draw another.
There will be a chalkboard of all available whiskeys in the pool waiting to be drafted and how many bottles of each posted in store during whiskey week, this list will not be posted online so swing on though and get your tickets today.
Some of the rare whiskeys that will be in this years raffle include:
Pappy Van Winkle 23 year
Pappy Van Winkle 20 year
Pappy Van Winkle 15 year
Old Rip Van Winkle 12 year
Old Rip Van Winkle 10 year
George T Stagg
William Larue Weller
Thomas Handy
Eagle Rare 17
Four Roses Limited edition small batch
Old Forester Birthday bourbon
Parkers Heritage
Orphan barre whoop and hollar
Weller 12 year
Angels Envy Cash Strength
Good luck to all!